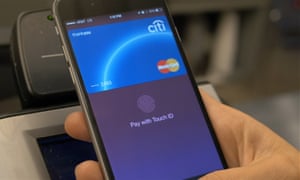 Apple Pay is set to launch in the UK on Tuesday, allowing iPhone users to tap and pay with their phones.
It is the first time it has been launched outside the US, and will be available to users with an iPhone 6 or 6 Plus. It is also compatible with the Apple Watch.
The US company has not officially confirmed the date of the launch. However, leaked memos from at least one British supermarket made reference to Tuesday 14 July and the HSBC UK Twitter account on Sunday confirmed the date in response to a question on the subject. The tweet was deleted shortly afterwards.
Apple Pay users will complete transactions by holding their phone close to a contactless reader while keeping a finger on the Touch ID fingerprint scanner.
Online purchases can be made from the iPad Air 2 and iPad mini 3 within apps.
A host of major UK brands and banks have signed up to support Apple Pay once it is launched, including Boots, Waitrose and the Post Office, with the same spending limit of £20 in place as for contactless card transactions.
This is expected to increase to £30 in September.
When it is launched, more than 250,000 locations will accept Apple Pay.
Apple said that when a credit or debit card is added, the card numbers are not stored on the device, or Apple's servers. Instead, it said, each transaction is completed with a "one-time unique, dynamic security code".
Google is set to launch its own mobile payment solution, Android Pay, later this year, while Barclaycard has already launched the bPay system, where users can choose between a wristband, key fob or intelligent sticker for their phone that contains contactless technology and can be linked with any bank account or card.
More than £2bn was spent using contactless payment in 2014, according to the UK Cards Association.