The Honor AP007 power bank comes in a textured aluminum casing with curves on all four sides. It feels slightly heavy and thicker than the ASUS ZenPower and the power banks of OnePlus and Mi, but that might be because of the extra battery capacity the device comes with.
Read: The Iphone's new iOS 9 can read your mind and tell you what next
The power bank houses 2 USB ports for power out, 1 micro USB port for power in, a blue array of LED lights to show the remaining battery and a circular power button to show the remaining charge. Though you can charge the power bank using any regular micro USB charger, the Honor Power Bank doesn't come with a charger unit. The device bundles a USB to Micro USB cable for charging devices. Like the device, the charger cable is also made of quality material but it is shorter in length in comparison to the OnePlus Power Bank.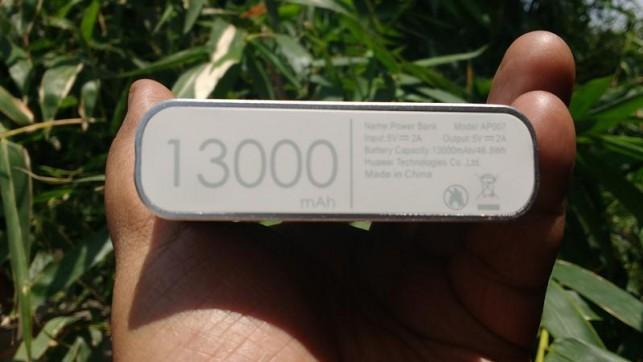 The Honor Power Bank takes around five-and-half hours to get charged 100% and offers 78% conversion rate, which means you get around 10,140mAh actual battery life in use. This is similar to the ASUS ZenPower and the power banks of OnePlus and Mi.
Both the ports offer 5V-2A power output, implying the device gets charged more quickly than others. We found the power bank can charge at least 4 devices at one time.
Huawei says the AP007 has gone through rigorous reliability tests, including the 1m height drop test, the vibration test and the shock test, the salt spray test and the shell pressure test.
During our testing, we dropped the power bank at least 6 times from a height of around 5ft but the device did not suffer any damage.
The only drawback of the Honor AP007 power bank is its weight and thickness, which makes it difficult to slip inside one's pocket.
The Huawei Honor AP007 13,000 mAh power bank is available exclusively on Flipkart for Rs. 1,399. If you are looking for a power bank device with a long battery life in a tough and good looking shell, go for the Honor power bank. If you're looking for a slim lightweight power bank, then go for the OnePlus power bank