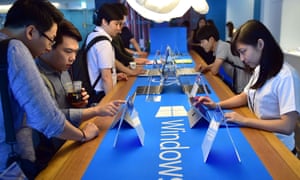 Windows 10 is under attack over default settings which users say compromise their privacy, just days after the operating system's successful launch saw more than 14 million installs in the first 24 hours.
Hundreds of commenters on sites such as
Hacker News
and
Reddit
have criticised default settings that send personal information to Microsoft, use bandwidth to upload data to other computers running the operating system, share Wi-Fi passwords with online friends and remove the ability to opt out of security updates.
Many of the complaints relate to the new personalised adverts embedded in Windows 10. When the OS is installed, Microsoft assigns the user a unique advertising ID, which it ties to the email address registered with the company. That email address is also associated with a raft of other services, such as the company's productivity and communication programs, as well as app downloads and cloud-storage uploads.
Read:
New invention: Samsung creates world's first monitor with inbuilt wireless charging
Using that information, Microsoft is able to personalise ads to the user, during both web surfing and, for newer apps downloaded from the Windows Store, app usage. Microsoft itself is leading the way on that front, even turning the in-built version of Solitaire (the card game that has been a staple of Windows installations since 1990's Windows 3.0) into a freemium game, complete with unskippable video adverts.
Elsewhere, Windows 10 also harvests user information in order to teach the built-in personal digital assistant Cortana, Microsoft's answer to Siri. To enable Cortana, the company says, it "collects and uses various types of data, such as your device location, data from your calendar, the apps you use, data from your emails and text messages, who you call, your contacts and how often you interact with them on your device".
Source: Guardian