This apps will blow your mind if you got to download them.
1. Freeletics
Available on:
iOS
,
Android
Price:
Free
Publisher:
Freeletics GmbH
You don't need a gym membership or even a workout buddy to get into shape these days - just your own bodyweight and this app for iOS and Android devices.
Freeletics includes a series of exercise routines and challenges that can be performed anytime and anywhere without the need for expensive gym equipment.
Whether you want to build muscles or shed fat, this app has adaptive workouts that can be tailored to your goals and features 'ghosts' to pit yourself against as you strive to break your own records.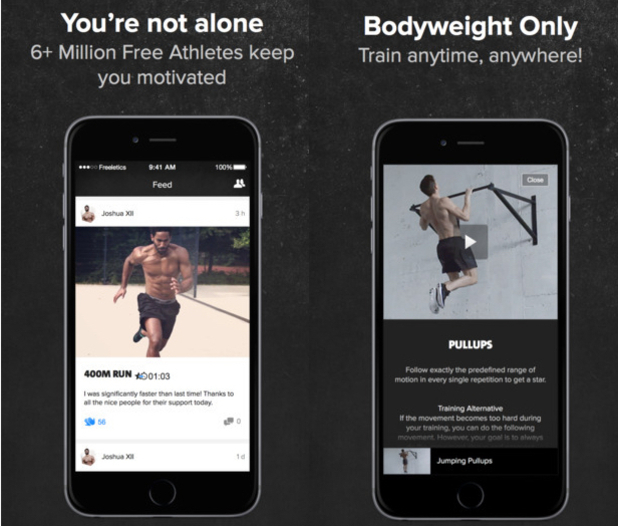 2. Fantasy Premier League 2015-16
Available on:
iOS
,
Android
Price:
£1.49
Publisher:
Premier League
The new footy season is now in full swing but it's not too late to sign up for a fantasy football league if you think you can do better than your team's current gaffer.
This official app from the Premier League lets mobile device owners become a mini Mourinho, picking a team comprised of players from the English top flight and competing for prizes against more than three million other users worldwide.
If you sign up now, you'll be getting in on the action a few weeks late, but you should still have more points than Chelsea by the time the next round of matches has concluded.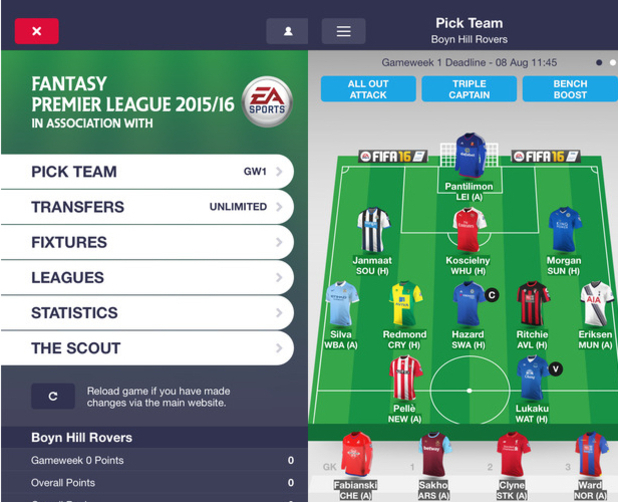 3. Hangouts
Available on:
Android
,
iOS
Price:
Free
Publisher:
Google
Google has invested a lot into improving its Hangouts service of late and the Android version of the instant messenger is the latest to receive an overhaul.
Hangouts on Android now rocks Google's Material Design and full Android Wear support, as well as making it easier for users to find contacts and start chats.
Google also
gave Hangouts its very own website this week
for users who prefer to do their instant messaging within a web browser.
4. Photo Story
Available on:
Windows Phone
Price:
Free
Publisher:
Microsoft
The latest app from Microsoft's Garage team is Windows Phone software that allows users to tell engaging stories through their photo collection.
Users simply select a day, theme and soundtrack, and Photo Story will do the rest, throwing together a stylised slideshow of your snaps set to a musical score.
Those who prefer the human touch can manually override the curation process and select the sideshow images themselves.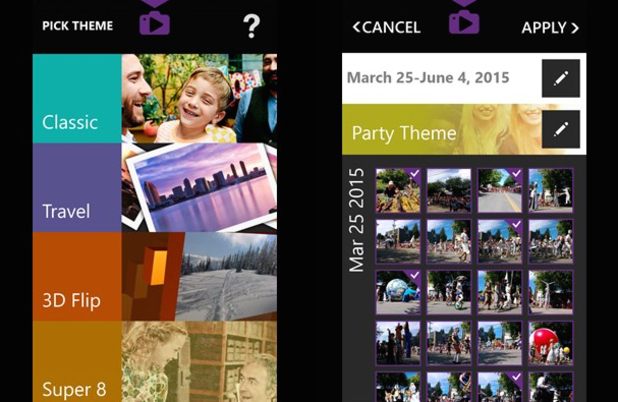 5. Zoobe
Available On:
Android
,
iOS
Price:
Free (with in-app purchases)
Publisher:
Zoobe Message Entertainment
Zoobe is an iOS and Android app for sending animated video messages, starring some of pop culture's most famous characters, to your friends.
Simply record a voice message into your handset and choose one of 80 famous avatars - from Paddington Bear to Ryu from
Street Fighter
- to deliver it to a friend.
One of our childhood favourites - Slimer from
Ghostbusters
- was added to the app as one of its messenger boys this month, and Stay Puft Marshmallow Man will be stomping his way onto there in October.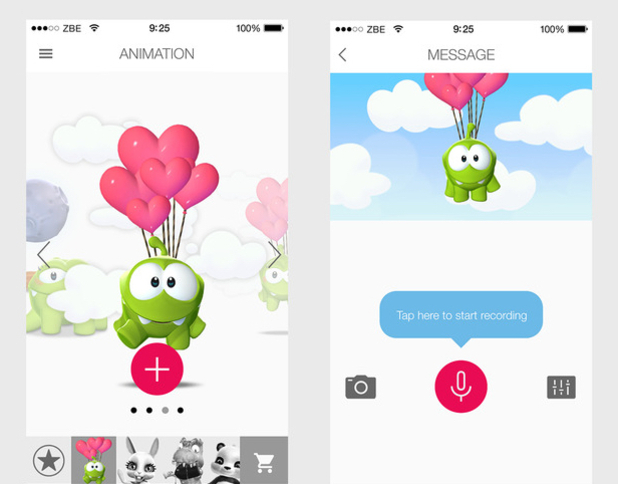 6. Green Card Pubs
Available on:
iOS
,
Android
Price:
Free
Publisher:
Eagle Eye Solutions
Going down the pub for a few pints and a good feed with the football on a big screen is the next best thing to having a season ticket, and it's even more enjoyable with the Green Card Pubs app installed on your mobile device.
Launched in conjunction with Sky Sports, the app offers users discounts on selected food and drinks at Sizzling Pubs, O'Neill's, Crown Carveries and Oak Tree Pubs during televised matches.
The app also links up with the Sky Sports website to serve fans with the latest football news, fixtures, match reports, and more.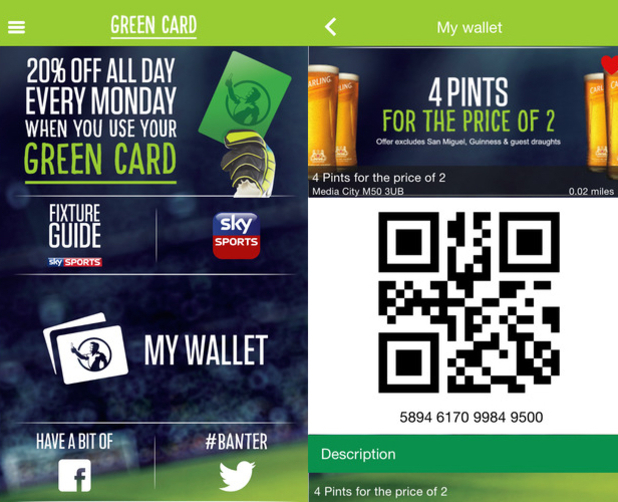 7. MSTY
Available on:
MSTY
,
iOS
Price:
Free
Publisher:
MSTY LTD
MSTY combines elements of WhatsApp and Spotify, allowing iOS and Android users to communicate via song.
Simply select a track from the app's catalogue, add a background image, apply your own text, and you're away.
Similar services like Music Messenger and Rithm did this first, but now they have some serious competition.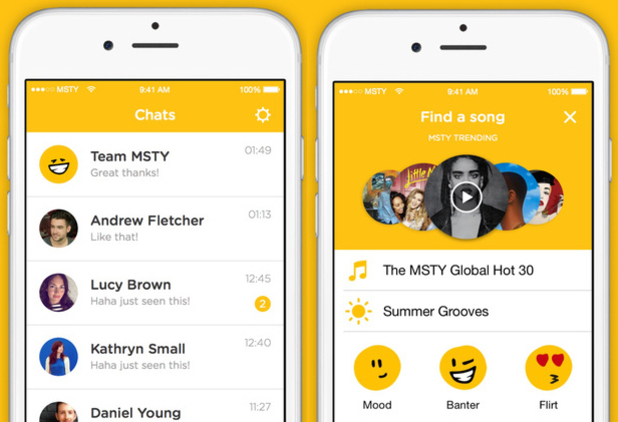 8. Story Wars
Available On:
iOS
Price:
Free (with in-app purchases)
Publisher:
Joakim Johansson
Story Wars is an idea that we really hope catches on. It's a collaborative fiction app that gets strangers writing together and competing for the right to continue a story.
After a writer has submitted a story chapter, members of the community will submit drafts for the next one and a vote will determine which one goes into the book.
Story Wars is also available on the web and as an extension for Google's Chrome browser.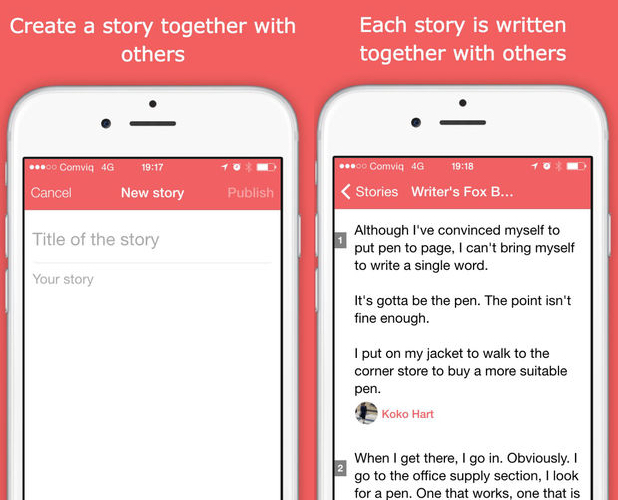 9. Dreamify
Available on:
Android
Price:
Free
Publisher:
Google
Google's Deep Dream software is capable of turning photographs into fascinating psychedelic tapestries, and occasionally nightmarish whirls of eyeballs.
Now it's available on Android devices in the form of the Dreamify app - not to be confused with the dream-journaling service for iOS - so users can apply weird and wonderful effects to their photos from their smartphone.
An iOS version is in the works - although there's a potential naming clash to work around - and premium features are on the horizon, so expect big things from Dreamify in the future.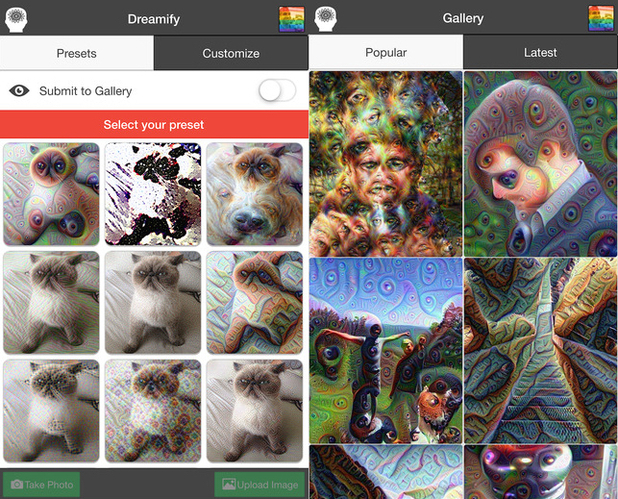 App of the week
Story Wars for iOS is our app of the week because the only thing we enjoy more than a good story, is a story constructed through community collaboration.
This one is a must for aspiring authors looking for feedback on their work or writing buddies to join forces with.