The great Canon is developing a digital SLR camera with a sensor that boasts a resolution of about 120 megapixels.
That's more than double the resolution of Canon's 50.6-megapixel EOS 5DS and 5DS R models, which were announced in February as having world's highest resolution for digital SLR 35mm full-frame sensors.
The super-dense CMOS sensor in the new prototype shooter is in the APS-H format and the camera would work with 60 of the 96 lenses in Canon's EF lineup.
The sensor produces eye-popping images that can be printed as full-size posters, said Canon, which announced Monday that it has developed a 250-megapixel prototype sensor for extreme-resolution imaging.
The 120-megapixel camera outputs RAW image files with a data size of 232MB, nearly four times as big as the 60.5MB RAW files shot by the 5DS.
In 2010, Canon produced a 120-megapixel CMOS sensor as a technical challenge and it was never commercialized. Though it released a generic image of an EOS DSLR for the latest prototype camera, there are no immediate plans to commercialize it either.
"This camera was produced as an example of Canon's high-definition imaging capabilities," spokesman Richard Berger said via email.
The new sensor can be considered an evolution of the 2010 one but it uses the latest fabrication technologies, he added.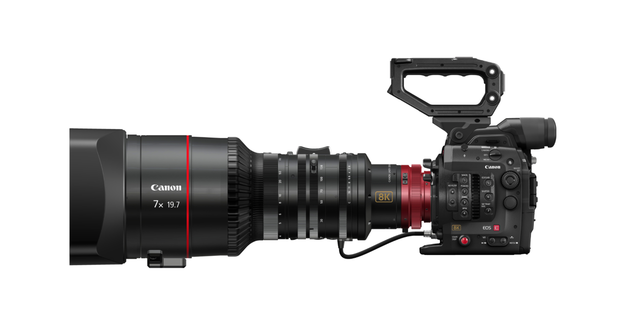 Canon also announced that it's developing a camera and display that can record and show imagery in 8K, a new video format with 16 times the resolution of today's high-definition TVs.
The Cinema EOS System 8K camera and 8K reference display follow the company's 4K equipment for professional users. They mark the company's first foray into 8K broadcasting, which is expected to begin in Japan ahead of the 2020 Tokyo Olympics.
The 8K camera will have a Canon Super 35mm-equivalent CMOS sensor with 8,192 by 4,320 pixel resolution at 60 frames per second. The display will have a pixel density over 300 pixels per inch, which approaches the limits of perception by the human eye, the company said.
Canon hasn't announced plans to release the 8K gear, but it's part of the manufacturer's recent push into the film-making and broadcasting market with its Cinema EOS products, competing against established rivals such as Sony.
Japanese media companies could be potential users in the run-up to the Olympics. Public broadcaster NHK, which has pioneered 8K technologies, is scheduled to begin tests of 8K programs in 2016.

Credit: PCworld