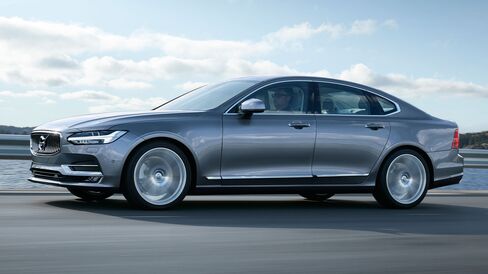 Volvo Cars unveiled a luxury sedan targeted at winning customers away from BMW, Mercedes-Benz and Audi, in what may be the biggest challenge for the Swedish manufacturer since it was acquired by a Chinese owner five years ago.
The new S90, shown to journalists for the first time on Wednesday, will be the second in the carmaker's new lineup, following the XC90 sport utility vehicle that started reaching customers in mid-2015. Both models, which feature an alarm system to prevent collisions with large animals such as
moose
or deer, are part of Volvo's $11 billion project to increase annual deliveries 60 percent to 800,000 vehicles by 2020.
"It is going to open up a segment for us where we haven't been strongly represented," Chief Executive Officer Hakan Samuelsson told journalists at Volvo's design center at the carmaker's headquarters in Gothenburg. "To really build a brand, where we want to be a global, true alternative to the Germans, we need estates, SUVs and sedans."
Samuelsson is trying to restore earnings and sales by making the brand a viable alternative again to the German luxury-car makers that dominate the market. That means investing in production lines and technology such as automated-driving and crash-avoidance systems that build on the Swedish company's reputation for design and safety. The S90 will include pilot-assist equipment that operates at speeds as high as 130 kilometers (80 miles) an hour, competing with a feature on the
Mercedes E-Class
.
The CEO said Volvo plans to sell about 15,000 S90s next year, with annual deliveries totaling some 50,000 once full production is reached in 2017. That will still lag far behind BMW AG's 5-Series line, whose deliveries are predicted to continue well in excess of 300,000 cars in coming years. Samuelsson said Volvo's ambition is to capture about a 5 percent share of the global premium-sedan market.
Also read:
Volvo has forecast that 80 percent of the S90's buyers will be new to the brand. That would be about double the rate for the XC90, and it's one of the reasons that executives have dubbed the new sedan their "
ultimate test
." Most S90 customers will be in the U.S. and China, the world's two largest car markets, and deliveries in each country will be about equal, Samuelsson said on Wednesday.
The S90, scheduled to to be introduced to the public at the North American International Auto Show in Detroit in January, will be produced starting in the second quarter of 2016 to replace Volvo's S80 sedan. Only about 12,500 of the older model were sold last year.
Chinese billionaire Li Shufu's Zhejiang Geely Holding Group Co. bought Volvo Cars for $1.8 billion from Ford Motor Co. in 2010. Volvo's worldwide sales peaked at 458,000 autos in 2007.
Also read: