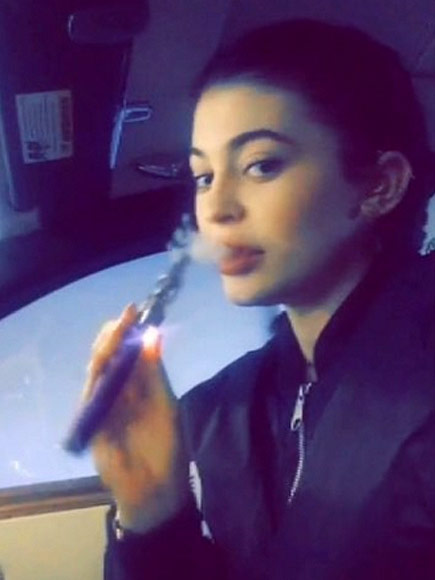 Kylie Jenner may be the youngest of the Kardashian-Jenner gang, but she's also the edgiest.
In a video posted to Snapchat on Thursday, the 18-year-old reality star is seen smoking an E-cigarette and blowing rings of smoke into the air while riding in the passenger seat of her friend Jordyn Woods's car. This is just the most recent in a string of rebellious behavior.
While the reality stars' big sister Khloé is in the process of removing a tattoo from her lower back, Kylie is starting her own little collection of ink. In November, the teen, who already had a small heart tattooed on her arm, posted a short video to Snapchat revealing a new tat on her hip. In September, the brunette beauty also revealed a series of piercings going up her ears, and, in April, she hinted at nipple piercings, posting a photo to Snapchat that read, "New jewelry in other secret areas," and drew 2 red circles around her lady lumps. The Keeping Up starlet has also been known to rock a rainbow of hair colors and styles, from pale pink to green.
Kylie's also not afraid to act a little naughty. The teen made headlines when she posted a video to Snapcat in April that showed her reaching around her sister Kendall and putting her hands down her pants.
Check out the video to decide if you think she's the biggest Kardashian-Jenner hellion, and tune in to
The Insider With Yahoo
on TV tonight for the latest in entertainment news.